Amicus CEO on a Mission to Cure Pompe and Help His Two Children
On a Friday the 13th some 20 years ago, 15-month-old Megan Crowley was diagnosed with Pompe disease. A few weeks later, so was her newborn brother, Patrick.
Even the doctor who diagnosed the two children didn't know much about the disease. Before that March day in 1998, he had never treated a patient with Pompe. He told their parents, John and Aileen Crowley, to "go home and enjoy the time they had" with their young family, as that time for Megan was likely to be nine more months.
Little in the way of research into Pompe existed, and no treatment was available. Megan, like many born with this neuromuscular genetic disease, was unlikely to live much beyond her second birthday.
Crowley — now the CEO of Amicus Therapeutics, which he established in 2002 — "settled on determination," he said in an interview with Pompe Disease News.  He left a job in finance to immerse himself in the pharmaceutical world and has spent the past 20 years at several biotechs and pharma companies, including Bristol-Myers Squibb, Sanofi Genzyme, and his first startup, Novazyme. He was working to develop treatments for his children — Megan, now 22 and a senior at Notre Dame, and Patrick, 20 — and for others with rare diseases and few options.
His family's story has been the subject of numerous newspaper and magazine articles, two books, and a 2010 movie starring Harrison Ford called "Extraordinary Measures."
In September 2018, Amicus acquired Celenex, a company specializing in gene therapies and run by Gordon and Kristen Gray who, like the Crowleys, set out to find better treatments for another rare disease, Batten, that affected their own children.
Enzyme Replacement Therapy
When Crowley set out to learn all he could about Pompe, the few researchers working on it were testing two possible treatment strategies: enzyme replacement therapy (ERT) — where scientists produce the enzyme that Pompe patients are lacking, acid alpha-glucosidase (GAA), in the lab and then infuse it into patients at regular intervals — and gene therapy.
Crowley teamed up with a glycobiologist, William Canfield, MD, PhD, to co-found Novazyme in 2000, with the goal of developing an ERT that might stabilize Pompe by replacing its missing or deficient enzyme. A year later, he sold the company to Genzyme, as Sanofi Genzyme was then known, which would continue to develop the potential treatment before ultimately moving forward with an internally developed ERT. Crowley was named to lead its global Pompe program as a senior vice president.
Genzyme executives decided that the ideal patients on which to test the most promising ERT in the program were infants whose Pompe symptoms appeared before they were a year old; these children had poorer prognoses than Megan and Patrick, who displayed delayed motor development as toddlers. Testing the treatment — a form of alglucosidase alfa — in babies, they reasoned, would be the fastest way to get it to market.  
Crowley hoped his children would take part in the trial (NCT00025896) that began in late 2001, but they were not among the eight patients enrolled.
Watching as his children became "profoundly weaker," Crowley made another determined decision — he resigned as senior vice president.
He had promised Genzyme's CEO he'd stay with the company for a year to lead the program, but once the trial was underway, "I stepped away from my position," he said.
Days later, Genzyme approved a trial (NCT00051935) of the same alglucosidase alfa intravenous treatment that would include only his children — a two-patient sibling trial to be conducted at St. Peter's University Hospital in New Brunswick, New Jersey, about a 30-minute drive from the family's home — to help doctors understand why some children respond better to this therapy than others.
Megan and Patrick got their first doses in January 2003. "That saved their lives," Crowley said. "It fixed their hearts … and for a while it made them stronger."
Alglucosidase alfa was approved in the U.S. as Myozyme in 2006, then reapproved (due to a manufacturing change) as Lumizyme to treat late-onset Pompe in 2010, and its label expanded to treat all forms of the disease in 2014. Crowley credits the treatment with saving his kids' lives, but said the effects on their skeletal muscles were short-lived.
Patients with Pompe have a genetic mutation that prevents them from producing GAA, which is responsible for breaking down a molecule called glycogen into sugars the body can use. This causes a toxic buildup of glycogen, leading to a wide range of symptoms marked by muscle weakness and eventually to respiratory problems and heart failure. Regular infusions of Lumizyme help break down glycogen, which can relieve some symptoms, but does not treat the underlying cause.
At Amicus, Crowley is now working on combining ERT with a "chaperone" that helps the enzyme to better fold and function, theoretically making it more effective than the ERT alone. Development of AT-GAA (ATB200/AT221) began in 2009. The goal, of course, is to address the shortcomings of Lumizyme.
"We had a big, big vision for what we needed to do in Pompe," Crowley said. "We didn't want small, incremental improvements."
Earlier this month, the company dosed the first patient in its Phase 3 trial of AT-GAA (NCT03729362), which is still recruiting adults with late-onset Pompe. Across 90 locations worldwide, it hopes to enroll about 100 participants previously treated with alglucosidase alfa or who have not yet received any enzyme replacement therapy. Patients will be randomized, with one-third receiving a placebo and two-thirds being given AT-GAA every two weeks for one year, followed by an open-label extension in which all will be treated.
"We think it's important to get this medicine to as many people as quickly as possible," Crowley said.
Initial results from a Phase 1/2 trial (NCT02675465) testing this combination therapy showed improvements in motor and respiratory function, along with a decrease in biomarkers of muscle damage.
Transitioning to Gene Therapies
Crowley's company is not only invested in the next generation of ERT, it's also exploring gene therapies that might treat the underlying cause of Pompe and other neurological lysosomal storage disorders.
In purchasing Celenex, Amicus didn't just get another movie-worthy story of parents fighting to cure their children of a rare and mysterious disease, it also received a portfolio of gene therapies for several different lysosomal storage disorders.
One of Celenex's co-founders is Brian Kaspar, a gene therapy researcher who, now as chief scientific officer of AveXis, has led the clinical development of AVXS-101. This gene therapy, named Zolgensma and under priority review by the U.S. Food and Drug Administration, may soon offer infants with spinal muscular atrophy type 1 a one-time, disease-modifying treatment. AveXis was acquired by Novartis in May 2018 for $8.7 billion in cash.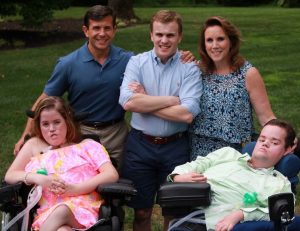 "Twenty years after I read my first paper in Pompe gene therapy, we still don't even have a clinical study being done in Pompe gene therapy," Crowley said.
For Amicus, AT-GAA is now the only experimental pipeline treatment that is not a gene therapy. Through Celenex, it acquired 10 such possible therapies.
The company opened a Phase 1/2 trial (NCT03770572) of AAV9-CLN3 (AAV9-CLN3), a gene therapy for CLN3, a form of Batten disease, in January. The trial is enrolling about seven children, ages 3-10, at Nationwide Children's Hospital in Columbus, Ohio, with a confirmed diagnosis who will receive a single injection of the treatment (either a low dose or a high dose). The patients will be tracked for three years.
Amicus also recently announced a collaboration with the University of Pennsylvania to develop a gene therapy that targets all facets of Pompe in the brain and body.
"We feel, for a gene therapy, you need to have the absolute best approach, and that's what we're going to pursue," he said.
As for Megan and Patrick, Crowley is taking a step back in his parental role; now that they're adults, he said, their future treatment decisions will be their own.